I'm coping ok without other half! Having Oz at preschool AND nursery Tue-Thurs is certainly helping! Mum has been here the last two nights helping put them to bed, and tonight I did it on my own again, no problem.

Toby had his first Pizza today! I'm such a bad mother....cheese and tomato thin crust pizza from Tesco - the adult size....Oz was having it for lunch and Toby was practically throwing himself out of his chair trying to reach it. I gave him a little piece thinking he'd gum it a bit and not be interested.....


(sorry that's the wrong way round...it's off my phone and I can't work out how to turn it - it's only 20 seconds so you won't get a crick in your neck!)
He LOVED it. Ate 3 slices - 3 small slices but of an adult size pizza!!! He's also addicted to toast and Marmite at the moment. I know I should give him healthier finger food - I'm such a bad mother!
I'm surviving though. Mornings are the hardest. And the weekend will be tough. Watch this space....
Stole this from
Clare
- I feel awful cos I've never read it! Think I'll be checking it out of the library....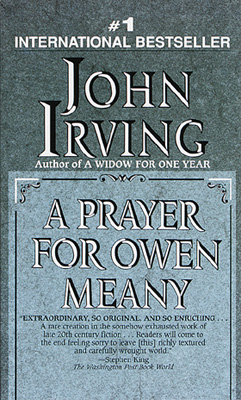 You're A Prayer for Owen Meany!

by John Irving

Despite humble and perhaps literally small beginnings, you inspire
faith in almost everyone you know. You are an agent of higher powers, and you manifest
this fact in mysterious and loud ways. A sense of destiny pervades your every waking
moment, and you prepare with great detail for destiny fulfilled. When you speak, IT
SOUNDS LIKE THIS!


Take the Book Quiz
at the Blue Pyramid.